The 5 Best Untapped Product Research Methods for 2023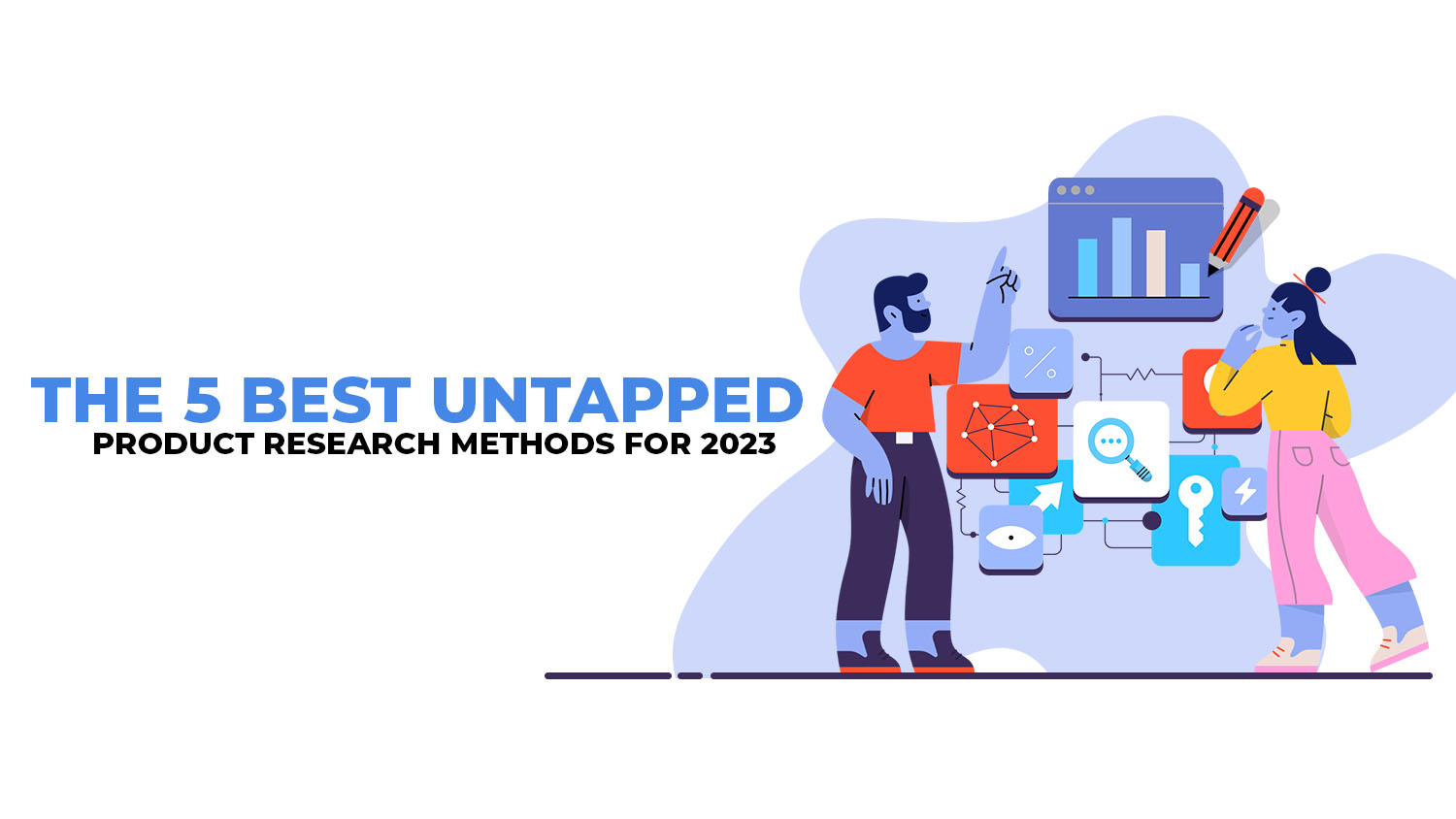 As the competition in the e-commerce industry continues to intensify with each passing year, it's vital to have a winning product research strategy at the forefront of your skill-set. If you're an aspiring entrepreneur still struggling to find the right product, look no further because you're in the right place! We've managed to formulate some of the best current product research methods & tools for 2023 that your competition probably isn't fully utilizing yet. After analyzing thousands of brands' ad accounts data, varying from the testing phase to consistent extremely high-scale days, our team has been able to get the process down to somewhat of an exact science. In saying that, we've been lucky enough to realize early on just how important the product selection process is & the instrumental role it plays in your brands overall growth potential & longevity.

Oftentimes, you will build your brand's identity around your product, whether it's your intention to do so or not. For example, you will use a tone of voice your potential customers would relate best to, you would design the store in a way that would be most aesthetically pleasing & best associated with your product/audience & so forth. Your product will inevitably back you into corners you didn't even know were there originally, and could even box you into a particular image or style that limits your brand's potential. This is why we make such an emphasis on its importance & why you must make wise & educated product selections. Put simply, you need a product that can maintain a high demand of people that see enough value in it; so much so, they will actually interrupt their day & voluntary exchange money for it, believing they got the better end of the transaction.

Your product will generally be the first decision you will make as a business owner. Being the first decision you make, by default it ultimately becomes the foundation of your brand. Being the foundation, your product therefore can be the make or break regarding your brand's potential. There's lots of things to cover when talking about specific product selection criteria, but we don't want to put the horse before the cart as they say, so do stay tuned for our next blog where we will deep dive into how to identify & validate a winning product using the exact same product research methods outlined in this article.

For now, we are going to dial in on our 5 personal favorite untapped product research methods for 2023, that you can start using right now to find your next winning product!

Hashtags in the social media search bars can help define your TikTok or Instagram feed to trending product reviews & ads that use that particular key hashtag. Some hashtags we recommend trying are "tiktokmademebuyit", "lifehacks", "musthaves", "amazonhaul", etc. However, the list does not stop there. You must remember, don't be generic, don't follow the crowd. You must get creative with your hashtag keywords & ensure you're making mental or physical notes of any new or trending hashtags you spot in relevant video descriptions along the way.

For example, when searching the hashtag filter "tiktokmademebuyit" I noticed another commonly used hashtag '5thingschallenge' amongst a few videos in that same category. After inspecting it further, I came to understand it as a whole TikTok trend previously unbeknownst to me, in which people would describe their most useful 5 products they had bought that year. What's even better, all videos associated with this trend were generally presented in a nice quick-fire list, all ready for me to go & take copious notes on (haha!) Talk about working smarter not harder am I right?

We know trending audios can be used to boost your organic posts or help with fresh, relatable content ideas. But have you ever thought about reverse engineering the process? Try clicking on trending audios from the past or present, that are specific to products or likely to be used by brands to showcase their products in advertising or organic posts. By clicking on audios that are commonly used by brands or alike, you'll get a first hand look at any creators that have used that audio at any point overtime. This gives you the direct ability to view their style of content, what's working for them & what's not, the kind of products or creatives that have the most engagement with that audio, & countless organic product videos from which you can gain general inspiration or ideas from.

Despite its slow recognition & adaptation by the mainstream, the TikTok burner method is one of the most effective research methods & a personal favorite. This is because the burner method capitalizes on the organic algorithm of TikTok itself, and uses it to directly flow a stream of trending or new release products to your general TikTok feed.

To do this, simply create a fresh TikTok account and consistently engage only with ads or organic marketing posts. This in turn will quickly optimize your new accounts 'for you page' to show a majority of product/brand videos. TikTok will believe you are an engaged shopper and as per its algorithmic coding, will continue to send you similar content to what you've previously engaged with or are engaging with. This means once optimized, you can sit back & scroll through countless ads or organic posts for product ideas, while TikTok does all the heavy lifting for you.

4) Adspy Tools & Software:

Definitely not as economical as some of the other methods we've mentioned in this article but certainly just as effective, if not more so. Ad spy tools & software's like Pipiads, Minea, Ecom Hunt, JungleScout & more are great tools you can utilize providing you have the extra room in the budget to afford the subscription fee. With these tools or similar, you can define your search results by filters including social platforms, number of days the ad has been live, popularity ratings, impressions, engagement & so much more.

By experimenting with these different variables & metrics that would be otherwise unavailable without the software, you can push for certain results & refine your search in a multitude of ways that allow you to explore quicker & more in depth to any specific filter. You can then continue to manipulate the results until you find that diamond in the rough that you're looking for in a much easier & more streamlined effort in comparison to an organic research approach.

5) Amazon movers & Shakers:

Last but definitely not least comes the Amazon movers & shakers list. This is actually just a subsection of the Amazon website that lists its top selling items based on consumer category based on a weekly time frame. If you have a specific niche/audience already then this should be easy for you.
For example if you have a general store in the pet niche, you can go into the 'pets' section on the weekly movers & shakers list & view amazon's best selling or hottest releases for that category. You can view its sales trajectory for particular products that catch your eye & can help you make judgements on that item's current level of demand. Alternatively, if you don't already have a specific audience or demographic in mind then every category is your playing field, the sky's the limit. Go nuts. Scroll through each category & go through the pages until your heart's content to gain new product ideas, valuable consumer insights, trending items & sale trajectories.
At ViralEcomAdz, we're constantly looking for & testing new untapped product research methods to help our clients stay ahead of the game. And let me tell you, TikTok is the place to be if you're trying to find winning products in 2023! And what's even better, now that you know these 5 product research methods & can start utilizing most of them immediately, you're well on your way to finding your first or your next winning product! But if you do still want to take things even further, why not
book a free call
with our agency, ViralEcomAdz, or join our
free course
where we cover# these topics & so much more in depth? Our team is always here & ready to help you succeed in your e-commerce journey, no matter what stage you're at!