From Idea to Launch: The Ecommerce Playbook for Success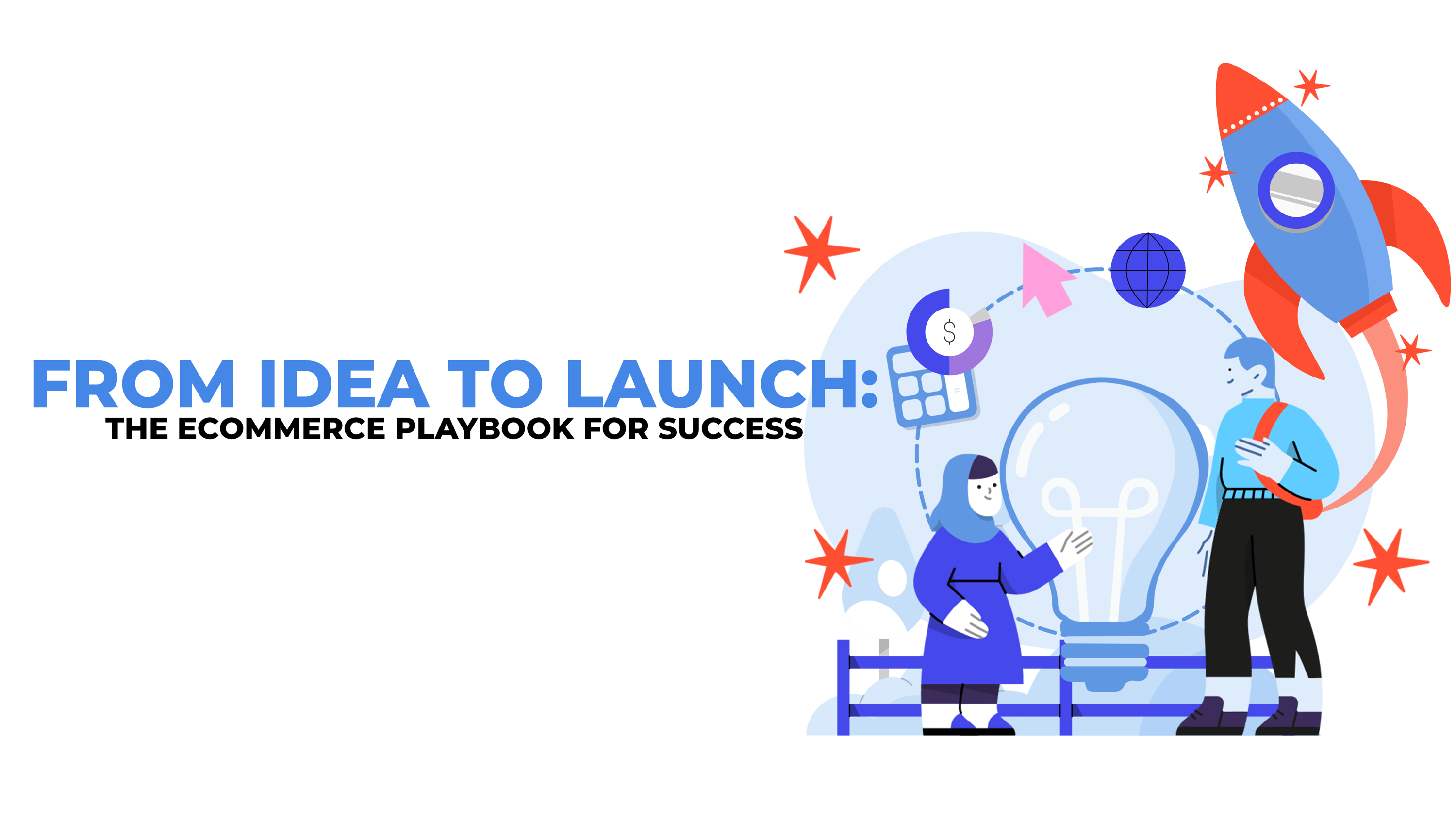 Are you feeling the burning desire for more but lacking a concrete idea to fuel your online success? Don't worry, you're not alone. Many successful entrepreneurs started exactly where you are right now. The good news is, you don't need a fully formed idea to get started. In this comprehensive guide, we'll take you through the step-by-step checklist that covers all the essential elements of achieving success in ecommerce. From understanding your target audience to picking a product & creating unique value propositions for it, we'll cover everything you need to know to make your first online sale - from start to finish!
So let's dive in & finally turn that insatiable desire for more - into a thriving online business!
When it comes to finding the perfect idea to fuel the flaming desire for online success, simplicity is key. With countless products vying for attention, it's easy to get caught in the trap of always searching for something better. But let's not overcomplicate things. To keep everything as efficient and effective as possible, limit yourself to two options: finding a winning audience or discovering a winning product.
A winning audience consists of passionate consumers who share common interests, hobbies, or problems. Your advantage lies in catering to their specific needs with niche products or leveraging your own understanding of the audience to outshine competitors.
When it comes to a winning product, there are certain traits that consistently set them apart. Regardless of your first choice between audience or product, these criteria apply to everyone. Before taking the plunge, consider if your potential product exhibits these winning characteristics. The more boxes you can tick, the better your chances of success.
Is it visually captivating?
Does it solve a common problem?
Is it an impulse buy?
Does it have organic content potential?
Is it emotionally driven?
Does it offer comfort, relaxation or stress relief?
Is there currently scalable demand?
Is it over-saturated?
Determining Your Market Fit:
Once you have your idea, it's time to assess the market fit for your product or brand. This involves determining your desired position in the market and understanding how you can stand out against potential competitors. Are you aiming to become a market leader or offering a more affordable alternative to a high-ticket item? Evaluate the advantages and disadvantages of your chosen niche and products to ensure they align with current market trends and customer needs.
Create Unique Value Propositions:
A common way to stand out in a crowded marketplace, is creating unique value propositions (UVP's) that set your products or service apart from competitors. Building upon your initial market fit assessment, you should aim to clearly communicate and highlight the benefits and advantages customers can expect when they purchase from your store. Your unique value propositions go hand in hand with aligning your offerings to meet customer needs and differentiate yourself from the competition. By effectively communicating the unique value your brand provides, you can capture both the attention and loyalty of your target audience.
To actually convert your target audience into potential buyers, you'll need to provide them with an exceptional shopping experience on a user-friendly platform. I recommend choosing a reliable and intuitive ecommerce platform like Shopify. You can easily enhance your website's design by utilizing free to download integrated apps such as PageFly or GemPages, which offer customizable templates for a more personalized look. Aim to optimize your site as best you can by boosting key metrics like average order value (AOV) through upsells, cross-sells, and bundle offers. Additionally, focus on improving conversion rate optimization (CRO) to increase the likelihood of customers making a purchase.
Content & Advertising Strategies:
Now, let's explore how you can effectively reach your target audience and make your brand's voice heard through a well-crafted marketing strategy. Your marketing and content strategy serve as powerful tools to connect with your audience and create meaningful conversations. When it's time, develop a comprehensive plan that combines different approaches to maximize your brand's total reach and engagement. Start by utilizing a paid social media platform like Facebook, Instagram, or TikTok, leveraging their cost-effective advertising capabilities to increase awareness and direct your audience to your website.
Master the art of reaching and engaging users on your chosen platform, ensuring that your message resonates with them and compels them to take action. Decide if it's worth exploring collaborations with influencers who align with your brand and target audience to expand your reach, enhance credibility, and generate excitement around your products.
Additionally, make sure to assess your product's potential for organic content, considering the abundance of engaging content angles and material that can have lasting value. Analyze whether your product has an ongoing capacity to generate content that resonates with your audience over the long term, fostering ongoing engagement and establishing a genuine connection. By implementing the right social strategies tailored to your brand and product, you can effectively drive quality traffic, boost your overall brand awareness, and generate sales.
Analyzing Results - Rinse & Repeat!
Now comes the exciting part: results. Remember, whether they're good or bad, they hold the key to your success. Continuously analyze and learn from the valuable data you collect along the way. Keep a close eye on conversion rates, customer feedback, and general sales data to gain insights into what's working and what needs improvement. From here it's as simple as rinsing and repeating these steps until you find a winning combination that propels your business forward.
Whether your results are favorable or not, you should view everything as nothing more than a learning experience. This way, it eliminates any preconceived ideas of 'failure' & avoids any doubts that come with it.
Remember, success is derived from analyzing performance, extracting meaningful lessons, and implementing necessary improvements. I encourage you to embrace the power of the law of averages & trust that if you persist long enough, in due time - something will click. And with each iteration, you're one step closer to unlocking your online success.
Last, but not least - there is one often overlooked but undoubtedly essential item we simply couldn't leave off the checklist: Having access to the right information and expert advice that caters to your specific needs and fuels your online business growth. Don't ever underestimate the value of having readily available resources that provide top-quality advice and up-to-date industry insights. To stay ahead in the fast-paced world of e-commerce, it's absolutely crucial to have access to current, high-level information, strategies or insights when you need them the most.
That's why I highly encourage you to work with ViralEcomAdz. Our team specializes in providing cutting-edge industry knowledge and strategies to help you achieve online success. With our guidance, you'll have the advantage of staying informed about the latest trends, best practices, and innovative techniques that can keep you ahead of the competition. Don't miss out on the opportunity to have the right information at your fingertips. Contact ViralEcomAdz today and
apply to work directly with us
to gain access to our invaluable resources & experience that will take your e-commerce journey to new heights.