Long Live Dropshipping: Don't miss the Ecommerce Revolution (3 reasons why dropshipping will never die)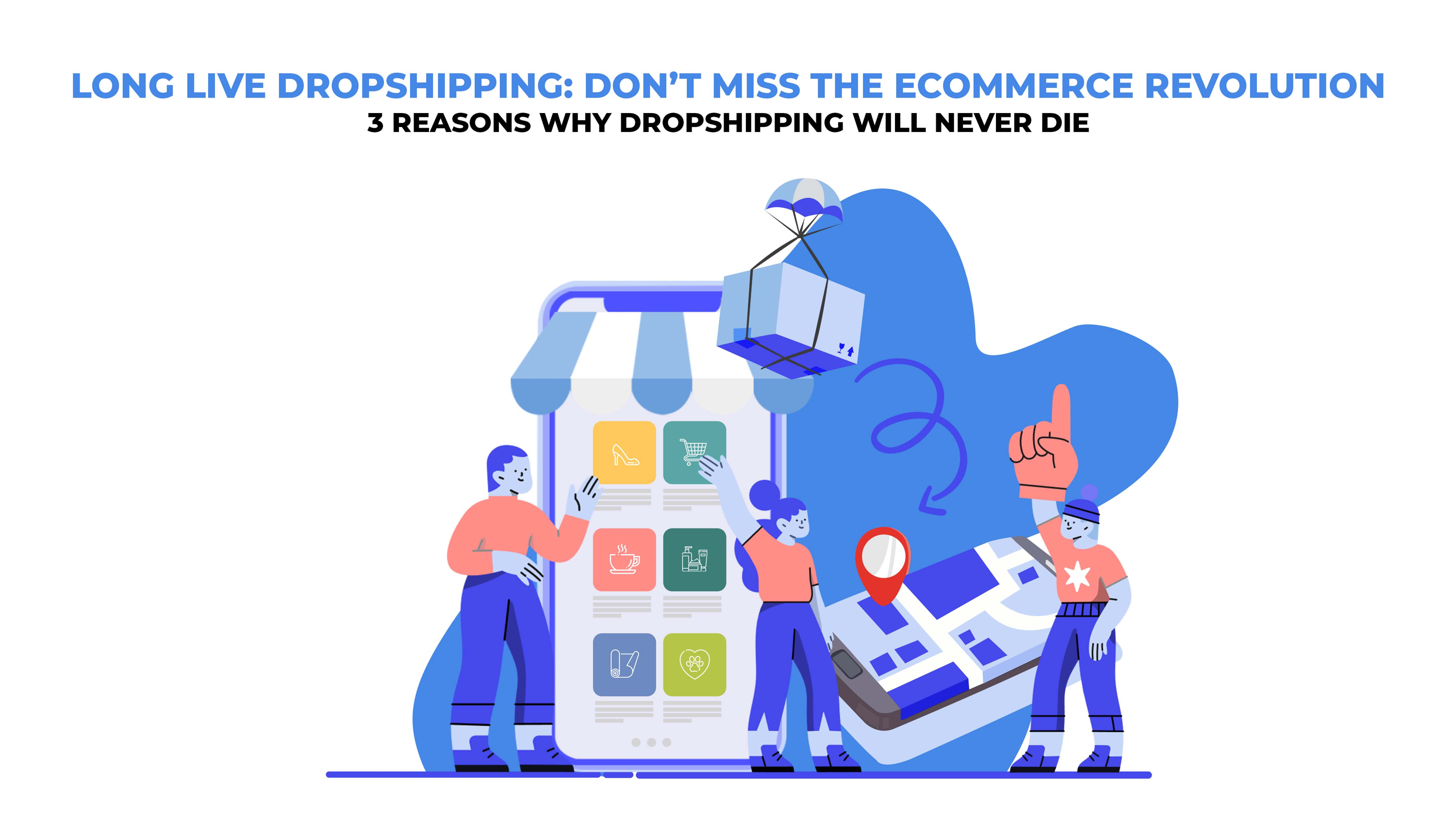 I know you've probably heard it a thousand times before. The skeptics who jump at any chance to claim that "Dropshipping is dead" or "You can't make any money dropshipping." Oh, and let's not forget my personal favorite, "dropshipping is a scam." Those are just excuses for the faint hearted that couldn't persevere. But I can tell by the mere fact you're reading this right now, you're different.
Today I want to destroy any doubts or concerns you may have about your ecommerce journey & reassure you that this path - whilst long & sometimes bumpy, has a destination that will make every failed attempt or set back you endured along the way, totally worth the effort.
So here's 3 reasons why Dropshipping will never die - & why you need to start ASAP.
The power of E-commerce over time:
As long as e-commerce continues to thrive, by default - dropshipping too will thrive. The absolute convenience and accessibility of online shopping have become totally ingrained in our daily lives. And as long as people continue to shop online, there will always be a demand for efficient and cost-effective ways to deliver products. It's simply your job to identify things such as: New products that can be brought to market, old or new problems that could benefit from a modern solution, potential gaps in the market that you could capitalize on, trending or alternative marketing strategies, or identifying new audiences/niches. Then once identified, presenting it to your target audience in a trustworthy & engaging manner that also properly incentivizes them to make a purchase.
When considering the validity of dropshipping & ecommerce in generals' longevity, it's worth imagining it like this - Since the birth of the internet, online sales & markets have been on an upward trend. Year after year, the amount of online shoppers & money spent online has only increased without ever wavering. This alone should be evidence enough that ecommerce & dropshipping is going nowhere in the foreseeable future & should definitely continue to be taken seriously as a credible & lucrative business model.
Adaptability & Flexibility:
Dropshipping is a dynamic business model that endures & adapts to changing trends and market demands. It offers unparalleled flexibility in terms of product range and niche selection. You can easily test various products, explore different industries, and find profitable niches that resonate with your target audience - all at a relatively low cost. By staying adaptable and responsive to consumer preferences, you can ensure your business thrives under any condition or trend & increase the overall longevity of your brand.
Although we can't predict the future, one thing is certain: dropshippers will always be at the forefront of the ever-changing ecommerce industry, leveraging new developments to their own advantage. Just a few years ago, it would have seemed outrageous to suggest that an app called "musical.ly" (now TikTok) would surpass giants like Facebook, Instagram, and Snapchat in terms of advertising potential & performance. Yet, here we are today, witnessing TikTok's rise as an absolute advertising powerhouse.


If you were a brand owner or advertiser who was quick to adapt to the short-form content style and trends of TikTok, you would have truly reaped the rewards. By capitalizing on the early days of TikTok advertising, those who embraced the platform's unique features found a new & debatably an even more effective avenue for reaching & engaging their target audience.
Compared to traditional retail, dropshipping has a remarkably low barrier to entry. You don't need a hefty investment or a warehouse full of inventory. With minimal upfront costs, you can launch your business and start making sales by the end of the day. This is an incredible shift from the pre-internet era when brick-and-mortar establishments were the only viable option. Taking years to establish & high capital, it was virtually impossible. Now, by harnessing the power of third-party suppliers, you can actually eliminate the risks associated with excess inventory, unsold products, and the complexities of stock and sales forecasting.
The low-risk, high-reward nature of dropshipping has understandably made it an incredibly enticing opportunity for aspiring entrepreneurs of all backgrounds & statures.
It's no secret that consumers are becoming increasingly savvy in their purchasing decisions as each year passes. With the rise of deceptive "get rich quick" schemes that have dirtied the industry's reputation, people are now much more adept at spotting untrustworthy brands & ads.In saying that, in this era of heightened brand awareness, consumers are also extremely quick to identify genuine value and authenticity as well. This should serve as motivation & reassurance that if you can find a way to truly portray or provide value in the customer's mind - you are sure to receive a measurable reciprocation of value in return ($$$).

This means that if you're looking to succeed in the ecommerce game, it's crucial to get in as soon as possible & start outworking your immediate competitors in the industry. So, if you're ready to establish yourself as a trustworthy and reliable brand, now is literally the perfect time to take action and surpass your competition by delivering both exceptional products & experiences to an ever-flowing stream of customers.
You'll find that dropshipping's comparatively low-risk nature & adaptability definitely make it an extremely attractive option for any aspiring business owner - for good reason! So I urge you, don't miss the opportunity to embrace dropshipping & fully maximize your chances of success. Whatever stage you're at in your journey, consider partnering with ViralEcomAdz. From first timers to the Forbes 500 list - we've got you covered in all things ecommerce. Need ads? We've got you. Need organic content? We've got you. Need 1 on 1 mentoring from credible industry leaders (not fake gurus)? We've got you! Or even If you just simply want a place to connect with like minded individuals & expand your network? We've got you! Our top tier services are literally endless & our countless client reviews speak volumes about the exceptional skills and expertise we actually bring to the table..
Just remember, the best time to start was yesterday. And the next best time to start, is right now. So click any of the links above that are relevant to you & come check out all of the things ViralEcomAdz can do to guarantee your success in 2023!